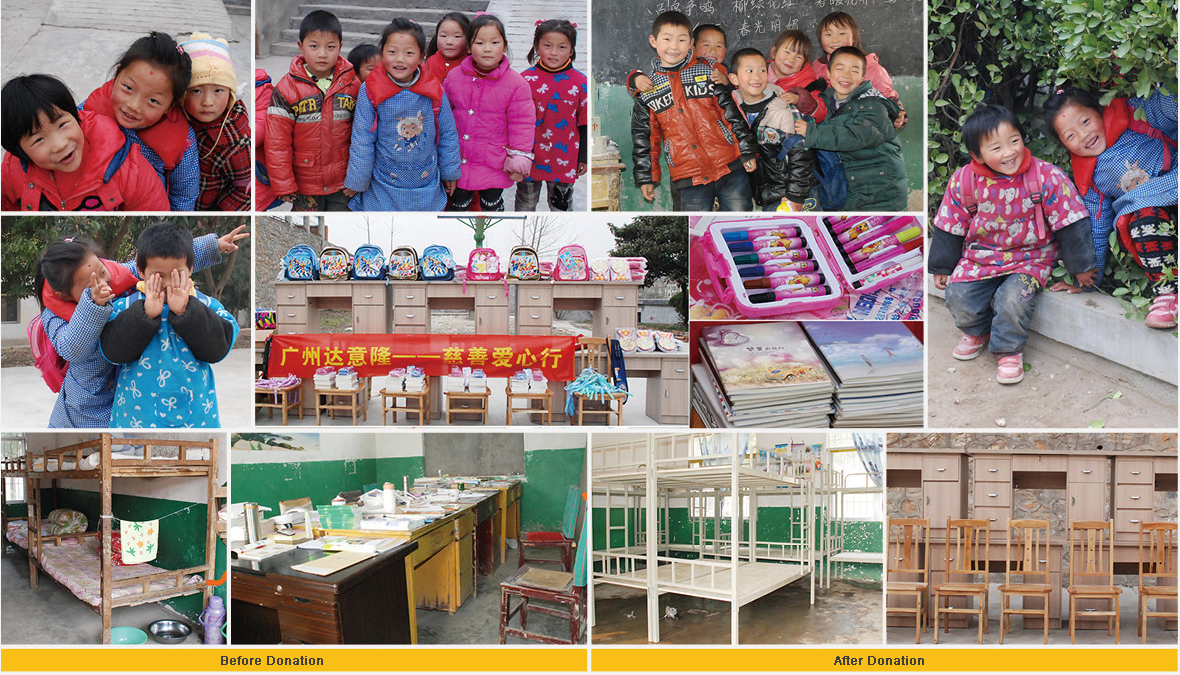 In March, Hubei's sky is gloomy after snow, the barren soil cannot save the water, and the red dust is blowing everywhere. The untidy cornfields on the roadside grow next to the road towards the school, and the green wheat sprouts stubbornly. The vivid scene shows the coming of the spring and is full of hope.
The most beautiful smiles
Xiao Zhu is in preschool, his father is almost sixty years old with asthma, and his mother is apsychopath. The family is extremely poor. Xiao Ni is also a preschool student, her father has leukemia, her mother is disabled and she cannot live by herself.
They are the ordinary students in Qingtang Primary School, and in their eyes, this residential school is their home. Without a bright classroom, warm quilts, enough classroom things, and even treasure toys, however, this school is filled with happiness and warmth. The classroom wasidentified as a dangerous building which is supported by the iron pillar temporarily to share thepressure of the roof, and the iron pillar also support the children's dreams about learning. Afterthe night class, the children return to the dormitory at the cold night. There are ten bunk beds inthis crowded dormitory, the shoes put tidily which are next to the washbasins under the beds. Inthe dark light, the cotton in the heels can be dimly seen. Two children share one bed, and in suchshabby environment they live everyday. The severe north wind blew cracks on their faces, and they are smiling at us when we arrives and they totally forget the pain that they are used to.
The next day we get up early to the classroom, with the bright and ordered reading sound through the window and fly away, the slogan "knowledge is boundless, learning in the class" rapidly appears in our sight. During the break, the schoolmaster unintentionally shows his worries: there is another stampede at one school. However, as the schoolmaster, what he can do is nothing but pray.
In rural areas, nature has a strong power, but in the process of growing, some lives are as fragile as the little tree in the hillside. In order to become a towering tree, they need to loosen the soil, fertilize, watering and trim.
Caring the education, warming Qingtang
On March 1, accompanied with the leaders of Xi Jiadian in Dan Jiangkou city and senior leaders of Runjing Water Company, the Tech-Long love charity group came to Qingtang Primary School to send everyday uses and classroom things. In early 2013, CMO Mr. Zhang Chongming of Tech-Long braved the cold leading the senior leaders to investigate the school and made Qingtang Primary School the donation object. Tech-long "Love Charity Tour" started in 2012, which provides aids by various forms to the poor schools every year, helps many children achieving their dreams topursue knowledge.
After leaving Qingtang Primary School, on the winding mountainous road, the Tech-Long love charity group walking with firm steps to a bright future.