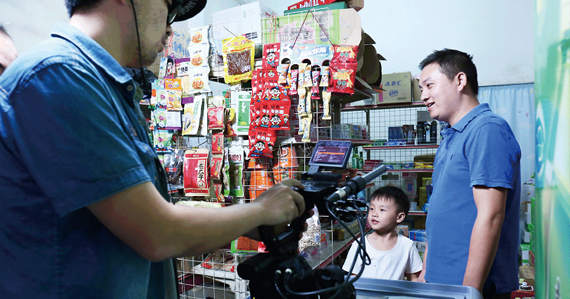 Brand is a significant embodiment of the competitiveness and development potential of an enterprise or a country. To help a brand go above and beyond in a long run requires joint efforts of government, enterprise and media.
On the morning of October 30, 2017, CCTV's Originality Program visited Tech-Long to shoot a documentary, in a bid to demonstrate the achievements made in brand building of enterprises and concrete China's aspiration to the "Nation of Hefty Brands".
Established in 1999, Tech-Long has now become the first listed manufacturer of beverage packaging machinery in China, as well as the leading equipment supplier of liquid packaging sector. While upholding the imperative -"Runs for You", Tech-Long is committed to the R&D and production of the high-speed automatic beverage production lines, providing comprehensive solution to liquid packaging for clients worldwide.
Tech-Long strives to facilitate China's ambitious industrial transformation: from Made in China to Created in China, from China Speed to China Quality, and from Chinese Products to Chinese Brands. It is hoped the documentary will fully demonstrate Tech-Long's insistence on innovative-driven development and transformation to intelligent manufacturing as a more modernized brand. In the meantime,by illustrating Tech-Long's aspiration to craftsmanship over the past two decades, the documentary aims toshed a new light on the pursuit of excellence and among domestic manufacturers, and open a window for the world to the unique charm of Made in China.
Mankind has a time-honoredhistory of 2.5 million years of manufacture. Those in possession of advanced equipment and manufacturing technique have always been pace setters worldwide. China is now on course to the transformation from a major source of industrial laborers to a significant industrial power. On China's historic journey, sophisticated equipment and manufacturing technique,necessary to help pave the way, underpin the development of the national economy. Tech-Long, with its cutting-edge product mix and technologies, is poised to lead its peers to contribute to China Dream along the way.