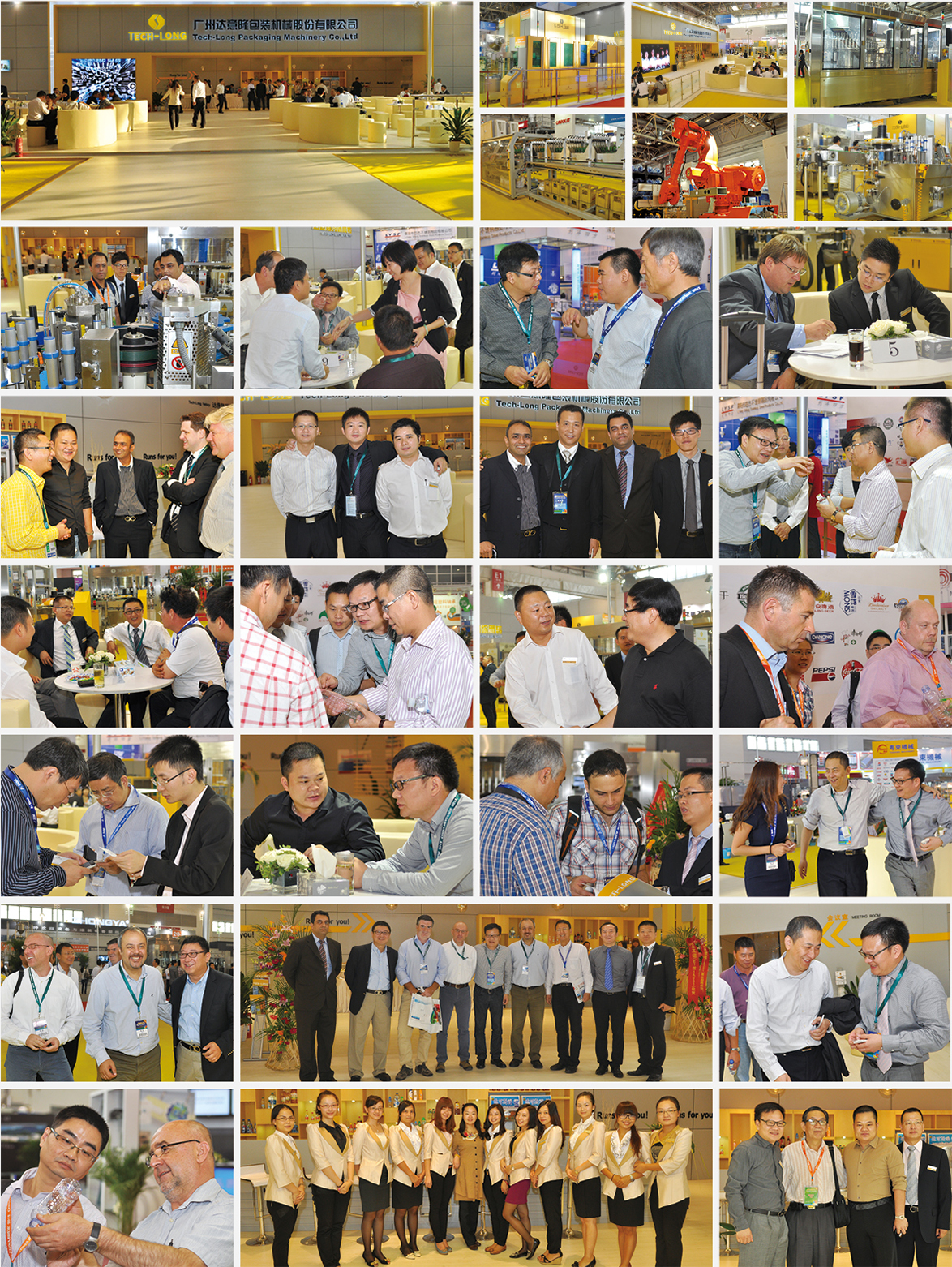 From September 19 to 22, 2012, China Brew &Beverage 2012 first held at China International Exhibition Centre in Beijing. The exhibition lasted for four days,and the sound technology and the international view of Tech-Long again received recognition in this industry.
China Brew &Beverage, which is held every two years, is the best exhibition in terms of scale and the level of professionalism on liquid food machinery, such as beer, beverage and dairy in the Asian-pacific region, and is the weathervane among the exhibition. During the time, the high-end brands and the top technology all gather here.
With the largest exhibition area of more than 1700-square-meter and the sophisticated equipment of Tech-Long of E2 pavilion, Tech-Long once again became a highlight of this exhibition. In the pavilion, Tech-Long mainly showed its disc-rotary hot melt adhesive labeling machine, full-server disc-rotary hot melt adhesive labeling machine, disc-linear hot melt adhesive labeling machine, RJM 10C blowing machine,barrel palletizer and depalletizer by robot, and shrink wrapper with bottom cutting film. The advance equipment not only shows the strong comprehensive strength, but also expresses the leadership demeanor of the industry.
RJM10C is a new generation of blowing machine researched and developed by Tech-long, which marks the Tech-Long blowing machines enter a period of 2400BPH with single mode. It is reported that this is the highest speed in the world.Blowing machine is regarded as the corn product of Tech-Long all the time. In 2002,domestic drink producers faced severe difficulties and had to spend huge money to buy equipment from abroad, Tech-Long dare to be the first and developed RJM8 fully automatic rotary blowing machine. This machine filled the blank about high-speed blowing equipment in China, and was awarded as National Torch Program Project.In 2007, the speed of blowing machine with single mode reached 1400BPH, and two years later, it reached 1800BPH. For years of improving, upgrading and innovating,the function of Tech-Long blowing machine keeps upgrading, and the speed is faster.
The equipment made by Tech-Long can completely compare to such equipment made by European countries.
As the leading enterprise in liquid packaging industry, Tech-Long always stands in the advanced position, and inspects enterprise's development with an international vision. Tech-Long makes the scientific research to driving force, and continues to broaden production lines and explore the new market, and continually pushes forward the liquid production industry to a higher, faster and better development.